Our Frequently Asked Questions: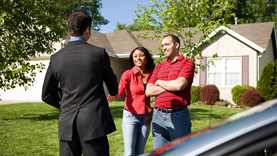 How do I choose the right roofing contractor?
It's important to pick the right roofing contractor to protect your home. Talk to your neighbors, family or friends and see who they have used and would recommend. The roofer you choice should have a proven track record and be able to provide you references. He should also be fully licensed and insured.
My roof is very steep, is this going to be a problem?
Our teams are capable of working on extreme roofs, whether extremely flat, or extremely steep. We have the right tools, experience, and safety equipment.
Water keeps draining off my roof and destroying the landscaping next to my house. Is there a way to fix this?
If you have a gutter system installed, make sure that it's cleaned thoroughly to allow the water to be routed away from your landscaping. Don't forget to check the downspouts too. We offer cleaning maintenance programs. Ask us!
If you don't have gutters, this would be an invaluable asset to your home. Correctly installed gutters and downspouts can not only add beauty to your home, but will protect your home, its foundation, and will help save you're landscaping.
Water is leaking under our gutter, and it's sagging a little. What can we do about this issue?
Your soffit might need some repair. What happens is your gutters get overloaded with leaves and debris, or were just not installed correctly. This makes the water drain toward the roof.
Fascia board can usually handle the normal rain fall and protect your soffit from damage, but can fail because of waterlog, it usually leads to a soggy soffit. This can then lead to damage down the walls of your house.
With every new gutter system, we repair and replace your soffits, install new fascia boards, and then correctly install your new gutters and downspouts.
Is there any maintenance I should be doing to my new roof?
For the first few years, the only maintenance you'll really need to perform on your new roof system will be to keep the gutters and downspouts free of leaves and debris. While you're doing that, you might just check to make sure that there aren't any trees leaning on the shingles, no bushes are touching the roof or gutters, and the general area is free of debris like sticks or leaves.
Check out this cool high speed video of a roof replacement courtesy of our awesome customer.
View Larger >
Shingle Visualizer

Browse an extensive variety of shingle styles and colors with this interactive shingle visualizer.
Browse >
Do you need new roofing, siding, gutters or windows? We offer free on-the-spot estimates, discounts and financing with approved credit.